Río San José & Río Zacapa, lower parts, Guatemala (area: Low Motagua; click here for the Guatemala table of rivers)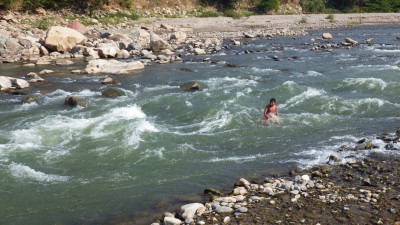 Class: IV-, III+; Ave. Gradient: 7 m/km; Portages: none; Length: 8 + 9 km; Time: 1 + 1.5 hours
Season: May to February; rafts? Zacapa; Highlights: scenery, challenging rapids in canyon; Crux move: getting to the confluence
Water Quality: poor; Water Temperature: warm
PI: San Antonio bridge (325m) or confluence (274m); TO: Agua Blanca dam
Description: (click here for general notes about my descriptions)
The Río Zacapa (the full name is Río Grande de Zacapa) collects stream water from a large area, including the entire department of Chiquimula as well as parts of Honduras. As such, in the rainy season it can offer some of the biggest whitewater in Guatemala, and in the dry season offers some runnable rapids in an area where few are found.
A full description is in the Mayan Whitewater Guatemala guidebook.
Descent History: The upper part was first run by a Maya Expeditions crew in 1987. I (Greg Schwendinger) made it through the upper and lower parts in July 2003.
Flow Notes: There is a sometimes-working gauge upstream at Camotán. In 2003, 0.92 on the gauge gave 1,200 cfs in the Lower Zacapa, and in 2007, 1.3 on the gauge gave 2,000 cfs. The Zacapa rain gauge can also be useful here to see rain patterns.
There are online gauges downstream on the Río Motagua at Gualán and Morales, though the Río Zacapa is only a fractional part, and the gauges don't always work. The Río Zacapa has a longer season than average, with good kayak flows June through November and reduced ones before and after. When the Gualán gauge approaches 2.0 you start to have a chance to get on the Río San José lead-in. The Zacapa rain gauge can also show recent rain patterns.
Nearby Tourist Attractions: Copán Mayan ruins across the Honduran border; Esquipulas cathedral pilgrimage site an hour away.