Río Zacapa, Bottom, Guatemala (area: Low Motagua; click here for the Guatemala table of rivers)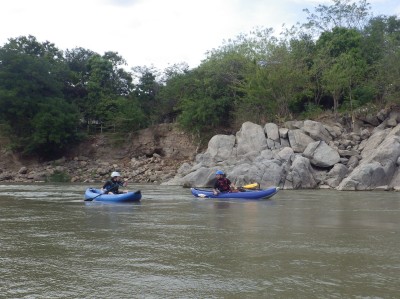 Class: II+ to III-; Ave. Gradient: 3 m/km; Portages: none; Length: up to 16.5 km; Time: up to 2 hours
Season: May to February; rafts? yes; Highlights: beginner run; Crux move: finding an air-conditioned cantina afterwards
Water Quality: poor; Water Temperature: warm
PI: Agua Blanca dam (222 m); TO: Zacapa (181 m) or Estanzuela (167 m)
Description: (click here for general notes about my descriptions)
The Río Grande de Zacapa doesn't have any big rapids below the Agua Blanca dam, but it has just enough gradient to be interesting, and friendly people along the river. At high water it would make a nice class III- family raft run. In the "shoulder" season after the rainy season it provides some good practice for beginning kayakers.
A full description is in the Mayan Whitewater Guatemala guidebook.
Descent History: First run by the Ducky Dynasty II group (Boris Trgovcich, Greg Gearheart, Jim Hardwick, Ron Duff, Scott Bittinger, David Nunez, Ana Mora, Angel Mangada, Roberto Rodas, and I) in January 2015.
Flow Notes: The Río Zacapa has a longer season than average, with good kayak flows June through November and reduced ones before and after. There are sometimes-working online gauges upstream at Camotán (readings of 0.92/1.3 have translated to 1,200/2,000 cfs in the Lower Zacapa), and downstream on the Río Motagua at Gualán and Morales. Rafts will want to see readings over 1.5 on the Gualán gauge. In 2014, 2.0 gave 4,000 cfs. The Zacapa rain gauge can also show recent rain patterns.
Nearby Tourist Attractions: Copán Mayan ruins across the Honduran border; Esquipulas cathedral pilgrimage site an hour away.