Río Xacbal, upper*, Guatemala (area: Mid Cuchumatanes; click here for the Guatemala table of rivers)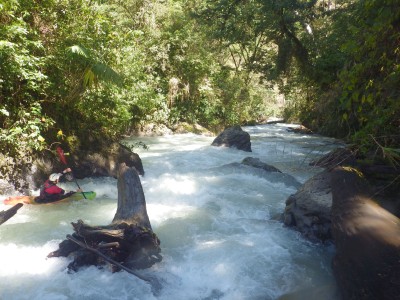 Class: IV; Ave. Gradient: 19 m/km; Portages: yes; Length: 17 km; Time: 5+ hours
Season: June to February; rafts? no; Highlights: gorgeous deep wooded valley; Crux move: the wood, and one V+
Water Quality: decent; Water Temperature: cold
PI: Suchum-Sumal bridge (1315m); TO: El Llano bridge (986m)
Description: (click here for general notes about my descriptions)
I was planning on making a big deal of the Upper Río Xacbal run, since it has some of Guatemala's best creeking set in a beautiful wooded canyon. That is, until we went back in 2014 and were appalled at all the wood in the river. We struggled, at medium-high water, to get through it for 2 hours, until my friend Peter got impatient on a blind rapid and had an epic swim through some more wood and lost his boat. We were told by the locals that the wood cleared up soon below, but we didn't get a chance to confirm that report. If it weren't so good before 2014 this run might get only one star. Most of the wood is due to logging activities, and I would like to think that eventually it could clear up with some high water years, but the trend does not give much cause for optimism.
A full description is in the Mayan Whitewater Guatemala guidebook.
*This run is marked politically sensitive because of conflicts over the Xacbal dam downstream. The main problem is that there is a new hydroelectric project proposed for the Middle section, and this may cause future access issues for outsiders, if you just happen to be taking out there during a delicate phase of the planning or construction process.
Descent History: I first ran this in February 2004.
Flow Notes: The Río Xacbal maintains runnable flows throughout its extended season. The river is not overly prone to flash flooding, but I would avoid it during very rainy periods, most likely, in this region, during August and September. The Río Lacantún gauge gives a hint to the flow, though I have only one data point: in 2014, 24,000 cfs on the gauge gave 800 cfs up here. Previously, I was more comfortable with flows below 400 cfs.
Nearby Tourist Attractions: The Ixil triangle: trekking and culture near Nebaj, San Juan Cotzal, and Chajul; Acul dairy/cheese farm.