Río Xacbal, dam run & lower*, Guatemala (area: Mid Cuchumatanes; click here for the Guatemala table of rivers)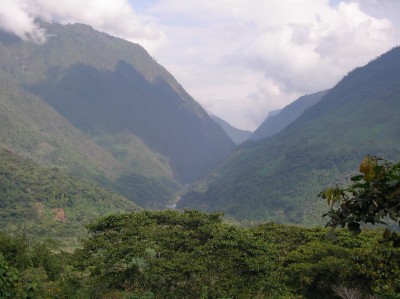 Class: V; Ave. Gradient: 26 m/km; Portages: many; Length: 5.5 km; Time: 6 hours
Season: June to February; rafts? no; Highlights: challenging creeking in a narrow canyon; Crux move: careful scouting, including the political situation
Water Quality: good; Water Temperature: cold
PI: El Llano bridge (986m); TO: Juá bridge (842m)
Description: (click here for general notes about my descriptions)
The Lower parts of the Río Xacbal (a.k.a. Río Chajul) offer an extreme escape from civilization, at the cost of a lot of portaging. A new dam partway has improved the access but may affect the flow. The first 7-km-long Dam Run takes you through the section where water is diverted, from the dam to the powerhouse. The Lower section takes you through probably the most inaccessible canyon in the country.
A full description is in the Mayan Whitewater Guatemala guidebook.
*This run is marked politically sensitive because of conflicts over damming and mining in this area. In the past there were protests over the Xacbal dam, and acts of vandalism against dam property and electric lines. Now that the dam is in, running the Dam section should not cause any alarm. The folks downstream of the canyon will defi nitely be suspicious of you, however, as they were with us. Read more in the guidebook.
Descent History: George Pratsinak and I survived this one in January 2005, before the dam went in, with 900 cfs at Juá. See his story in the guidebook.
Flow Notes: We found the Dam Run (before the dam was built) plenty challenging, with 900 cfs (and guessed it would be more undercut and manky with less water). With the dam it will not be common to see such flows anymore. Below the powerhouse, we had 1,000 to 1,200 cfs, which seemed a reasonable level. Currently the Xacbal dam is having an unknown effect on those flows; most likely it reduces the daytime flows, especially during dry periods. The Río Lacantún gauge downstream can give a hint as to relative water levels.
Nearby Tourist Attractions: not much in this area.