Río Sichel-Suchum, Guatemala (area: Mid Chuchumatanes; click here for the Guatemala table of rivers)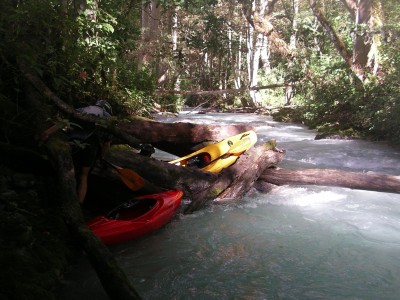 Class: IV+; Ave. Gradient: 23 m/km; Portages: lost track how many; Length: 18 km; Time: 9:30
Season: June to February; rafts? no; Highlights: natural setting; Crux move: teamwork around the logs
Water Quality: good; Water Temperature: cold
PI: Canaquil (elev: 1730m); TO: Sumal bridge
Description: (click here for general notes about my descriptions)
The Río Sichel-Suchum (it changes name halfway) comes right out of the upper heart of the Cuchumatanes mountains. The valley is already known to adventurous trekking tourists who cross the river daily to take in the area's atmospheric villages. The stream runs under the shadows of a leafy forest that has a low-alpine ambience, and several of the first descent team said it was the prettiest run they had ever seen. The river exhibits a remarkably constant width, gradient, and velocity. However, it has one big drawback: a countless number of dangerous logs. Besides the obvious security hazards they pose, they also stretch out the time required to run this section to a very long day. Start early and be prepared to camp out.
A full description is in the Mayan Whitewater Guatemala guidebook.
Descent History: The first and only descent was by (Spaniards) Alex Ruiz Lerena, José Ignacio Berrueta Maeztu, Aitor Diaz Arevalo, and (Americans) Gary Chrisman and George Pratsinak, on 17.11.04. They had about 600 cfs at the TO.
Flow Notes: This river keeps its medium-low level most of the year. The limits of the season have not been tested. High flows, most likely in August/September, are not compatible with all the wood. The 1st descent group had about 500 cfs. The Lacantún gauge, downstream in Mexico, gives a hint as to recent rain (the Sichel-Suchum's contribution is very small).
Nearby Tourist Attractions: The Ixil triangle: trekking and culture near Nebaj, San Juan Cotzal, and Chajul; Acul dairy/cheese farm.