Río Serchil, Lower, & Río Cajulá, Lower, Guatemala (area: Río Negro; click here for the Guatemala table of rivers)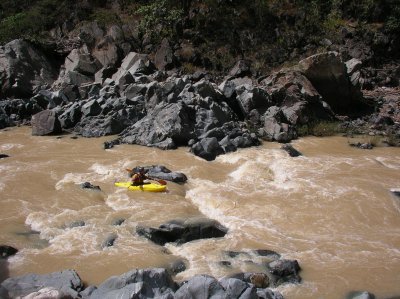 Class: IV+; Ave. Gradient: 11 m/km; Portages: possibly; Length: 13 km; Time: 4-5 hours
Season: June to October; rafts? no; Highlights: serious creeking; Crux move: serious creeking
Water Quality: poor; Water Temperature: not noted
PI: Puente Pa'aj (1575m) or PuenteCajulá (1580 m); TO: Río Negro (1448 m)
Description: (click here for general notes about my descriptions)
These small rivers, the Río Serchil and its biggest tributary the Río Cajulá, offer some of the best IV creeking in the area. They pass through some narrow and winding bedrock gorges that can get downright spooky. Be wary if you see rare high flows.
A full description is in the Mayan Whitewater Guatemala guidebook.
Descent History: Gary Lee Chrisman and I ran the Lower Río Serchil in October 2004 (Roberto Rodas made sure we got to the right spot), and I ran the Lower Río Cajulá solo in October 2007 (250 cfs at the PI).
Flow Notes: These creeks need heavy recent rain to come up, but on rare occasions they can get too high. The Río Negro (phone) gauge is useful here—readings of 1.5 to 2.0 are probably ideal (but the calibration could change of course). In 2015, a reading of 1.44 was described as "bajo" (dry season readings this year were as low as 1.10). In 2007, 1.85 on the gauge gave 250 cfs at the Río Cajulá PI and 1,100 cfs at Río Negro. In 2004, 1.38 gave 200 cfs at the Río Serchil PI and 1,200 cfs at Río Negro.
Nearby Tourist Attractions: Momostenango wool market, Palá Chiquito hot springs.