Río Selegua, Top, Guatemala (area: Northwest; click here for the Guatemala table of rivers)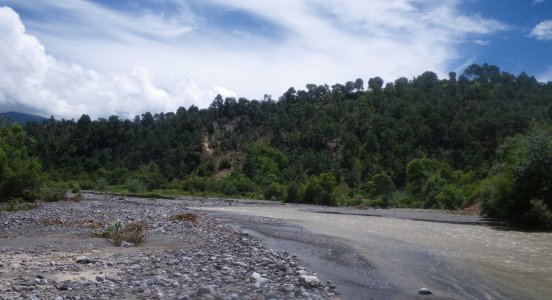 Class: III-; Ave. Gradient: 7 m/km; Portages: none; Length: 9 km; Time: 1:30 hours
Season: August to October; rafts? no; Highlights: catching the water; Crux move: catching the water
Water Quality: poor; Water Temperature: not medium-cool
PI: Las Lagunas bridge (1830 m); TO: Palajachuj (1765 m)
Description: (click here for general notes about my descriptions)
The Río Selegua is a long river with lots of whitewater and impressive scenery. The Top section is where it all begins, but is run even less often than the other sections mainly due to a usual lack of water. In addition, the water has even a higher concentration of pollutants, being just downstream of Huehuetenango and Chiantla.
A full description is in the Mayan Whitewater Guatemala guidebook.
Descent History: I got on this in August 2010, with 150/700 cfs at the PI/TO.
Flow Notes: There is an online gauge way downstream in Mexico on the Río San Gregorio (Puente Concordia gauge). You will need heavy recent rains to have a go here. In 2010, 15,500 cfs on the gauge gave 150 cfs at the PI.
Nearby Tourist Attractions: Zaculeu Mayan ruins