Río Selegua, Lower, Guatemala (area: Northwest; click here for the Guatemala table of rivers)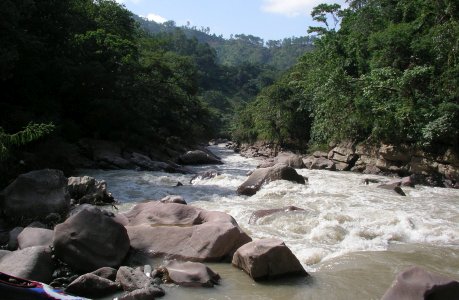 Class: IV to V; Ave. Gradient: 16 m/km; Portages: yes, in bottom parts; Length: up to 25 km; Time: up to 10 hours
Season: June to December; rafts? first part; Highlights: some nice flow-dependent III/IV ; Crux move: careful scouting
Water Quality: poor; Water Temperature: medium
PI: Boquerón (1010 m) or San Rafael de la Vega (865 m); TO: Puente Quemado (855m) or Puente Selegua (635 m)
Description: (click here for general notes about my descriptions)
As mentioned already, the Selegua valley offers dramatic Himalayan-scale scenery. The Lower section adds whitewater action that changes dramatically within its normal flow range. It has the potential for an exciting run through a rarely-visited part of the country, or for epic carnage.
A full description is in the Mayan Whitewater Guatemala guidebook.
Descent History: Mark Shimanski, George Pratsinak, and I ran down to San Rafael de La Vega in October 2005 with about 2,000 cfs at the TO. A week later the flow was down to 1,400 cfs and George and I tried to go further but hiked out at Chamaxú. In December 2006 Jacob Weiss and I made it all the way through with a low 250 cfs flow. I have returned to run the first part only once more, in 2009.
Flow Notes: There is an online gauge downstream in Mexico on the Río San Gregorio (Puente Concordia gauge); Río Selegua is the largest tributary. In 2009, 1,100 cfs on the gauge gave 350 cfs at Selegua IV. During dry spells the river can get quite low, though the season runs quite late on the Lower
section, for kayaks at least.
Nearby Tourist Attractions: not much in this area.