Río Selegua, the Canyons, Guatemala (area: Northwest; click here for the Guatemala table of rivers)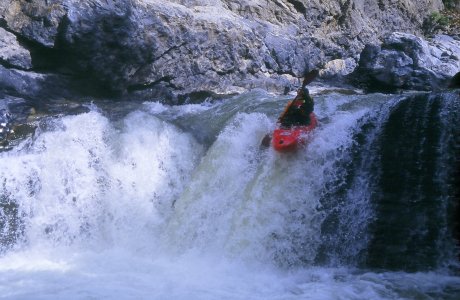 Class: V+, IV; Ave. Gradient: 22 m/km; Portages: in canyon parts; Length: 4, 11 km; Time: 4, 3 hours
Season: June to November; rafts? no; Highlights: fun IV and challenging V creeking ; Crux move: El Tapón rapid
Water Quality: poor; Water Temperature: medium
PI: Selegua II bridge (1380 m) or San Pedro Necta bridge (1235 m); TO: Santo Domingo hammock bridge (1050 m)
Description: (click here for general notes about my descriptions)
The Río Selegua passes through the most impressive drive-through valley in Guatemala, and the canyon area is the scenic highlight. The canyons are so deep and narrow that "roadside" sometime means 100 feet or more above the river. They create two particularly challenging sections, as well as a downright fun one connecting them.
A full description is in the Mayan Whitewater Guatemala guidebook.
Descent History: Spaniards Alex Ruiz Lerena, josé Ignacio "Iñaki" Berrueta Maeztu, and Aitor Diaz Arevalo, along with American Gary Lee Chrisman, made it through the First Canyon in November 2004. I ran the section from San Pedro Necta down to Santo Domingo in june 2007, with about 250 cfs.
Flow Notes: There is an online gauge downstream in Mexico on the Río San Gregorio (Puente Concordia gauge); Río Selegua is the largest tributary. In 2008, 2,700 cfs on the gauge gave 350 cfs at Selegua II. During dry spells the river can get quite low, though the canyons are some of the rare spots in Guatemala where the water can easily be too high. Due to the flash flood danger, start very early if attempting the canyons.
Nearby Tourist Attractions: not much in this area