Río San Isidro, Guatemala (area: Salamá; click here for the Guatemala table of rivers)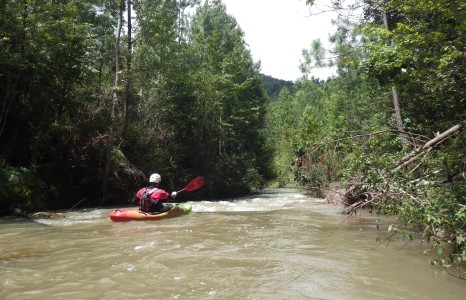 Class: IV; Ave. Gradient: 11 m/km; Portages: wood, and one class V in the gorge; Length: 12 km; Time: 2.5 hours
Season: July to October; rafts? no; Highlights: forest scenery; Crux move: the narrows
Water Quality: decent; Water Temperature: cold
PI: Finca San Isidro (1600m); TO: Highway bridge (1472m)
Description: (click here for general notes about my descriptions)
The Río San Isidro is one of the highest altitude runs in Guatemala and it is not easy to catch a good flow. The river passes through lovely forest and has varied rapids. It starts out in a valley, meandering in and out of cultivated areas.
A full description is in the Mayan Whitewater Guatemala guidebook.
Descent History: The first descent was by Nils Saubès and me in September 2013. We had 300 cfs at the TO.
Flow Notes: Extra heavy rains are needed for this creek to come up. The TO bridge makes a convenient scouting spot.
Nearby Tourist Attractions: Biotopo de Quetzal.