Río San Francisco, upper & lower, Guatemala (area: Pacific Suchi; click here for the Guatemala table of rivers)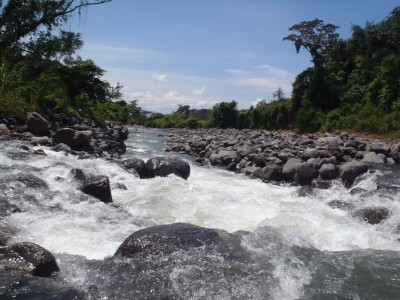 Class: IV, III; Ave. Gradient: 20 m/km; Portages: none; Length: 7 + 6 km; Time: 2 + 1 hours
Season: June to October; rafts? no; Highlights: continous rapids; Crux move: catching the water
Water Quality: average; Water Temperature: medium
PI: Finca La Cortina (360m) or CA-2 bridge (160m); TO: CA-2 bridge or gravel operation (100 m)
Description: (click here for general notes about my descriptions)
The Río San Francisco is a small volume creek with continuous rapids. It is relatively lowstress with no canyon sections. It is hard to catch the water though, and will most certainly find it shallow and tough on the boat, especially the fi rst kilometers.
A full description is in the Mayan Whitewater Guatemala guidebook.
Descent History: I ran this solo in October 2011.
Flow Notes: The Río San Francisco only comes up during very rainy periods.
Nearby Tourist Attractions: Los Tarales and Los Andes nature reserves, El Semillero beach.