Río Quisayá, Upper, Guatemala (area: High Motagua; click here for the Guatemala table of rivers)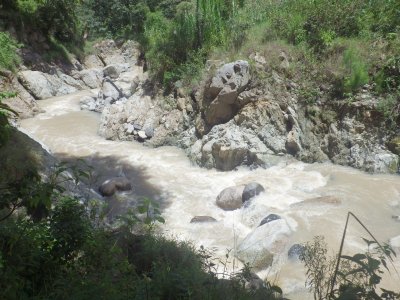 Class: IV; Ave. Gradient: 22 m/km; Portages: none; Length: 13 km; Time: 3 hours
Season: June to October; rafts? no; Highlights: forest scenery and final gorge; Crux move: catching a good flow
Water Quality: decent; Water Temperature: cool
PI: bridge near Simajuleu (1810 m); TO: Chiquizayá bridge (1530 m)
Description: (click here for general notes about my descriptions)
The Upper Río quisayá is one of my favorite creeks in the Upper Río Motagua drainage, taking you deep into the heart of one of the prettiest ravines in the area. There are still pine forests to enjoy here, along with some varied agriculture. The rapids are continuous but straightforward and build up strength gradually, until a final exquisite gorge that requires a little more deliberation. your main problem, however, will be finding a good fl ow, as it seems to run well only a few days at a time, only a few times a year.
A full description is in the Mayan Whitewater Guatemala guidebook.
Descent History: My first descent was in September 2014.
Flow Notes: Heavy recent rains are needed for this run to go. The closest online gauge is way downstream on the Río Motagua at Gualán which can only give a rough correlation to this small tributary's flows. In 2014, 2.5 on that gauge gave 200 cfs at the TO and less than 100 cfs at the PI, which was too low. The gauge at Morales is even further downstream.
Nearby Tourist Attractions: Iximché Mayan ruins near Tecpán.