Río Popoyá, upper & lower, Guatemala (area: Pacific Suchi; click here for the Guatemala table of rivers)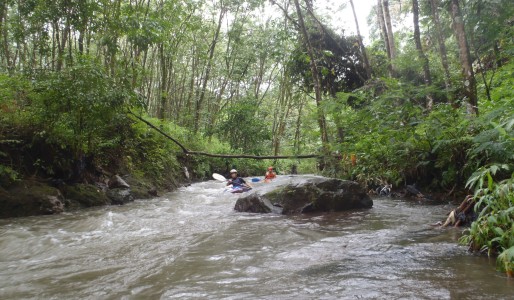 Class: II+, IV; Ave. Gradient: 13m/km Upper, 30 m/km Lower; Portages: several in Lower; Length: 8+ km; Time: 3+ hours
Season: June to October; rafts? no; Highlights: a class II creek! and some good stuff below; Crux move: careful scouting in Lower
Water Quality: decent; Water Temperature: medium
PI: Finca Popoyá (405m) or CA-2 bridge (355m); TO: CA-2 bridge, or Río Coyolate TO (72 m)
Description: (click here for general notes about my descriptions)
The Río Popoyá offers some excellent creeking options when the water is up. The Upper is a nice beginner run, and the Lower offers some challenging creeky drops. Both sections have nice jungle canopy overhead and shallow rocks underboat.
A full description is in the Mayan Whitewater Guatemala guidebook.
Descent History: I ran this solo in October 2011, with about 90 cfs at the PI.
Flow Notes: Heavy rains are needed for a decent flow on the Río Popoyá. The Río Achiguate gauge was at 0.7 when I ran it in 2011, with a borderline low flow.
Nearby Tourist Attractions: Lago Atitlán, Sipicate beach.