Río Plátanos, Upper, Middle, & Lower, Guatemala (area: Mid Río Motagua; click here for the Guatemala table of rivers)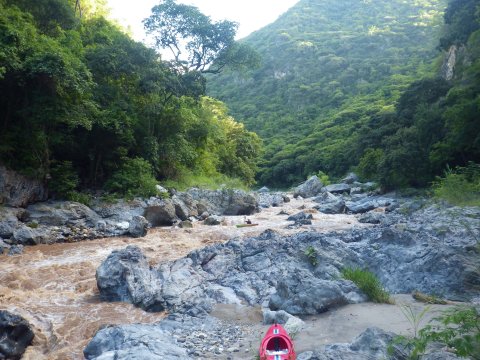 Class: IV, IV-, IV+; Ave. Gradient: 16 m/km; Portages: small dams; Length: up to 58 km; Time: up to 8 hours
Season: June to October; rafts? Middle; Highlights: speedy creeking; Crux move: Baranquilla gorge
Water Quality: poor; Water Temperature: varies
PI: San Miguel (1360 m) or Agua Caliente (1030 m) or Llano de Morales (856 m); TO: CA-9 bridge (735 m) or El Carmen (550 m)
Description: (click here for general notes about my descriptions)
The upper sections of the Río Plátanos offer one of the longest stretches of continuous moderate whitewater in the country (predominantly class III+/IV- with a few IVs thrown in). It is a total hoot when you can catch good water. Imagine descending 625 m and 38 km in 5 hours—that is what I was able to do the one time I ran from the top. The Middle is a good option when the water is low, or for rafting when the water is high, and has a shorter shuttle. The Lower is raftable until the Río Las Cañas confluence, then takes you through the an isolated fearsome-looking gorge full of gnarled volcanic rock.

A full description is in the Mayan Whitewater Guatemala guidebook.
Descent History: I first ran down from Agua Caliente in September 2003, then from San Miguel in September 2008. I have yet to see a very high flow in those parts. I first ran the Lower section in August 2006. I have seen flows between 800 cfs and 1,300 cfs in the gorge.
Flow Notes: The Río Plátanos has more water than the other rivers in this region but that ain't sayin' much. The gauge at Gualán is currently the most reliable of the unreliable predictors. In late September 2008, my highest and only full run of the Upper section, 2.5 at Gualán gave 200 cfs at San Miguel and 700 cfs at CA-9.
Nearby Tourist Attractions: not much in this area.