Río Ostúa, Lower, Guatemala (area: Southeast; click here for the Guatemala table of rivers)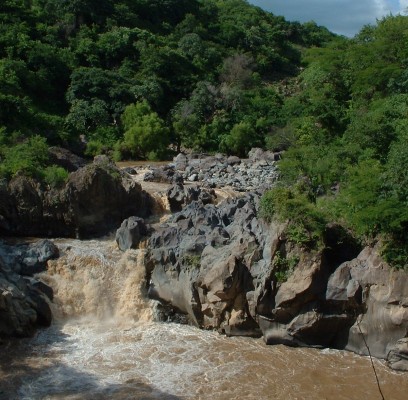 Class: V; Ave. Gradient: 12 m/km; Portages: yes; Length: 15.5 km; Time: 5 to 6 hours
Season: June to October; rafts? no; Highlights: challenging rapids in impressive gorge; Crux move: careful scouting
Water Quality: poor; Water Temperature: cool
PI: Catorche II bridge (650m); TO: Asunción Mita
Description: (click here for general notes about my descriptions)
The Lower Río ostúa is another Southeastern showcase of volcanic bedrock river features and lush tropical scenery. It is a run with plenty of scouting and some portaging. The length and access help make it a winner. If it was closer to Antigua and the gauge wasn't broken, I'd have run it again by now.
A full description is in the Mayan Whitewater Guatemala guidebook.
Descent History: I first ran this in September 2003, with 1,000 cfs.
Flow Notes: The Río ostúa has a couple of usually-not-functioning guages, which makes it hard to catch, especially the Upper section. In rainy periods the Middle will have kayakable flows. Mid-September and mid-October are, as usual, your best bets..
Nearby Tourist Attractions: not much in this area.