Río Naranjo, Upper, Main & Lower, Guatemala (area: Pacific West; click here for the Guatemala table of rivers)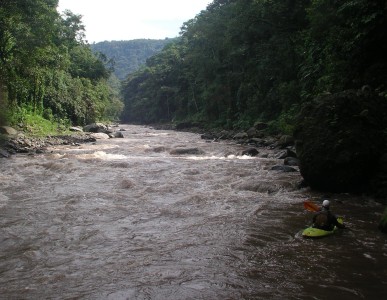 Class: IV-; Ave. Gradient: 11 m/km; Portages: none; Length: 7 + 24 + 7.5 km; Time: up to 6 hours
Season: late May to November; rafts? yes; Highlights: jungly scenery; Crux move: "Black Hole" rapid
Water Quality: poor; Water Temperature: cool
PI: Chibuj bridge (365 m) or Finca Santa Rita (475 m); TO: highway bridge ("Puente Vado Ancho") or Santa Maria Naranjo
Description: (click here for general notes about my descriptions)
The Río Naranjo would be run a whole lot more if it was nearer to the capital or other tourist areas. It offers the biggest whitewater on the Pacific coast. It is raftable and has an extended kayak season. Boasting many side waterfalls, the jungle canyon scenery is exquisite (especially at the beginning) and has a fairly remote feel despite its proximity to the mid sized town, Coatepeque, and the coastal highway. Plus, there are many rapids of similar difficulty that offer some decent play and technical challenges.
A full description is in the Mayan Whitewater Guatemala guidebook.
Descent History: The first descent was done in 1980 by the kayak and spelunking club of Guatemala: Roberto Arimany, Eduardo Granados, Raymon Vernon, Rafael Aguilar y Alejandro, and Mito Saenz. My last run was in 2013. It has been run from low to high water levels. I first ran the Upper section with Maarten Bleijerveld and Bob vranich in 2006.
Flow Notes: There are is no online gauge, though the Nahuatán gauge at Pajapita and the Ocosito gauge at Caballo Blanco, measuring in nearby drainages and shown below, give a hint to relative levels. Kayaking flows are pretty reliable in the rainy season, rafters will need to avoid dry spells. In general I think the higher the flow, the better, on this run.
Accommodations: There are many hotels in the Coatepeque area.
Nearby Tourist Attractions: The beach at Tilapa, and the Manchón Guamuchal Wetland Preserve nearby.