Río Motagua, Top Parts, Guatemala (area: High Motagua; click here for the Guatemala table of rivers)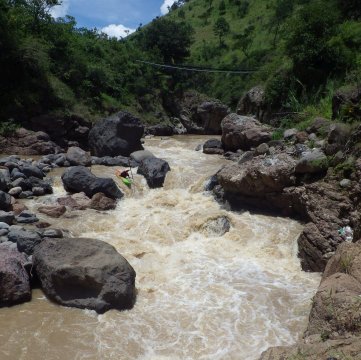 Class: IV; Ave. Gradient: 20 m/km; Portages: several up top, plus the big one; Length: 10-18 km; Time: 2.5+ hours
Season: June to October; rafts? no; Highlights: scenery and rapids; Crux move: El Rincón portage
Water Quality: poor; Water Temperature: cool to cold
PI: lower Pacán (1472 m), upper Pacán (1545 m), or maybe Chipacacab (1644 m); TO: La Garrucha (1290 m)
Description: (click here for general notes about my descriptions)
The shorter and slightly easier Top section of the Río Motagua is a wonderful prelude to the IV/V stuff downstream. If you are lucky enough to be around during a rainy period, get on it. Think twice about putting on at the uppermost PI though, since that requires negotiating the Rincón.
A full description is in the Mayan Whitewater Guatemala guidebook.
Descent History: I came through El Rincón unwittingly in july 2005 (a high 800 cfs at Pacán). Nils Saubès and I ran from Pacán down in September 2014 (500 cfs at Pacán).
Flow Notes: The closest online gauge is way downstream at Gualán. In 2014, 2.0 on the gauge gave 500 cfs at Pacán. Expect (and hope for) brown water. The gauge at Morales is even further downstream.
Nearby Tourist Attractions: Chichicastenango market town and Lake Atitlán.