Río Motagua, Lower, Guatemala (area: High Motagua; click here for the Guatemala table of rivers)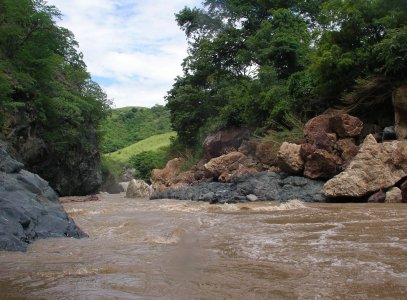 Class: III to IV; Ave. Gradient: 5 m/km; Portages: none; Length: up to 27 km; Time: up to 4 hours
Season: June to October (year round for easy kayaking); rafts? yes; Highlights: remote feel; Crux move: class IV at higher water
Water Quality: poor; Water Temperature: medium
PI: Concua (620 m) or Vega del Limón (515 m); TO: San Buenaventura (495 m) or La Canoa (473m)
Description: (click here for general notes about my descriptions)
The Lower Río Motagua provides a very scenic trip through a warm remote valley. You get a nice workout without too much stress. The large multi-colored boulders and other rock formations are quite special, and compete with the rapids for your attention. you may spot iguanas also. The Lower can be run at a wide range of water levels, making it an option in the dry season. (To appreciate the full range of water levels this river experiences, take a gander at the high water line during your run.)
A full description is in the Mayan Whitewater Guatemala guidebook.
Descent History: I got on this solo in August 2007.
Flow Notes: The closest online gauge is way downstream at Gualán. Flows do not correlate very well. In 2012-2014, 1.5 on the gauge gave between 350 cfs and 1,200 cfs at vega de Godinez. Below 1,000 cfs (the usual case) the river has been class III+. I have run the Lower up to 4,000 cfs which increased the speed and hole-dodging. Rafters have run the Middle at double that flow but no one has dared to challenge the Lower gorge at those levels (3.0 on the gauge gave ~8,000 cfs). The gauge at Morales is even further downstream.
Nearby Tourist Attractions: Mixco Viejo Mayan ruins near the PI for the Middle section, and Guatemala City attractions.