Río Margaritas, Guatemala (area: Southeast; click here for the Guatemala table of rivers)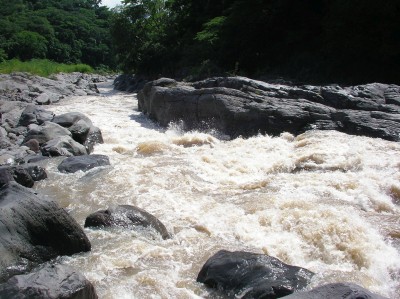 Class: IV+; Ave. Gradient: 10 m/km; Portages: yes; Length: 34 km; Time: 5 to 7 hours
Season: June to October; rafts? no; Highlights: varied and remote; Crux move: an early start
Water Quality: OK; Water Temperature: not noted
PI: El Sitio Oratorio bridge (400m); TO: CA-2 bridge
Description: (click here for general notes about my descriptions)
The Río Margaritas is remote and long, and the water is hard to catch. once on, it offers some challenging rapids, a huge waterfall, and the threat of a flash flood since you are certainly on it during a rainy period.
A full description is in the Mayan Whitewater Guatemala guidebook.
Descent History: Josh Anthony and another kayaker first ran this around 1996.
Flow Notes: The Río Margaritas is very hard to catch. Historical streamflow data are shown above. you will want to see all the Río Esclavos and Río Paz gauges way up, and a good solid 1,000+ cfs at the To. I had a good flow in 2007 (300/1,300 cfs at the PI/TO) with the Río Paz-Hachadura gauge showing 2.2.
Nearby Tourist Attractions: not much in this area.