Río Machaquilá, Upper, Guatemala (area: Petén; click here for the Guatemala table of rivers)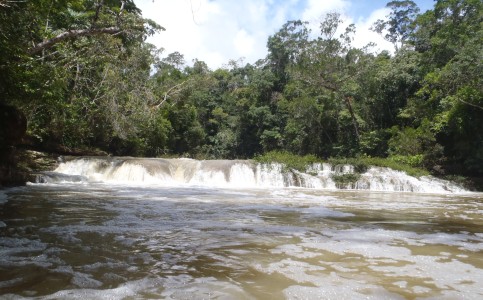 Class: III; Ave. Gradient: 6 m/km; Portages: perhaps; Length: up to 26 km; Time: up to 4.5 hours
Season: July to February; rafts? no; Highlights: easy access; Crux move: sharp rocks and wood
Water Quality: good; Water Temperature: varies
PI: Las Lajas (535 m), or highway (435 m); TO: highway, or balneario Las Pozas
Description: (click here for general notes about my descriptions)
The Upper Río Machaquilá has some travertine drops and takes you by the main source spring of the river above the highway. The section below the highway is plagued by sharp rocks and sometimes wood. Contact me for more information.

Descent History: I ran from Las Lajas solo in August 2012. Tubing has been popular on the section below the bridge for years (Finca Ixobel offers this trip).
Flow Notes: There is a convenient online gauge at the main highway.
Nearby Tourist Attractions: Tikal Mayan ruins, Finca Ixobel guesthouse.