Río San Jerónimo, Las Astras, Guatemala (area: Salamá; click here for the Guatemala table of rivers)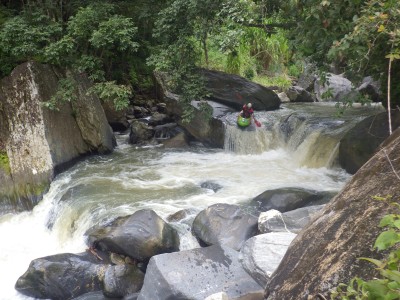 Class: IV; Ave. Gradient: 24 m/km; Portages: yes; Length: 3.5 km; Time: 2 hours
Season: July to October; rafts? no; Highlights: fun creeking; Crux move: technical drops
Water Quality: decent; Water Temperature: not noted
PI: Las Astras Dam (1065 m); TO: Puente Los Mangales (980 m)
Description: (click here for general notes about my descriptions)
The water in the Río San Jerónimo passes through a series of dams on its steep drop from the Sierra de Las Minas cloud forests to Salamá. The final Las Astras dam is a diversion for the local agriculture Unidad. Just below is a steep section that packs a lot of fun drops into a short distance, plus a good-sized chunk that needs to be portaged.
A full description is in the Mayan Whitewater Guatemala guidebook.
Descent History: Nils Saubès and I ran this in September 2014, with 175 cfs.
Flow Notes: The San jerónimo needs heavy rain to come up, most likely to happen mid-September to mid-October. 250 cfs is ideal, more than 450 cfs would be a handful. you can get an idea of the flow from up on the Cobán highway by looking at the upstream Matanzas run (note that up to 175 cfs is diverted out of the Río Matanzas there). By the way, the small dams upstream of this run do not affect the flow much during the rainy season (nor give much flood protection).
Nearby Tourist Attractions: not much in this area.