Río Ixtacapa, Guatemala (area: Pacific Suchi; click here for the Guatemala table of rivers)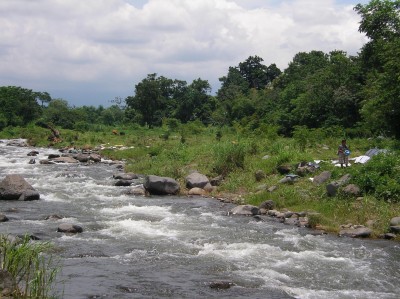 Class: III+; Ave. Gradient: 18 m/km; Portages: maybe; Length: up to 18 km; Time: up to 3 hours
Season: June to October; rafts? no; Highlights: continuous rapids; Crux move: avoiding hazards
Water Quality: decent; Water Temperature: medium
PI: CA-2 bridge (450m); TO: Finca La Esperanza (130 m), or above
Description: (click here for general notes about my descriptions)
The Río Ixtacapa is an inviting, rapid-fire creek of clear water ricocheting through open farmland and past the town of San José El Ídolo. It is, however, almost always quite low. There are some minor hazards to deal with as mentioned below. Also of note, artificial flood containment banks have been constructed recently near the highway, and through the center of San José, which may have changed the character of the river somewhat since I ran it in 2007.
A full description is in the Mayan Whitewater Guatemala guidebook.
Descent History: I got on this solo in August 2007.
Flow Notes: It is rare to see a nice high fl ow on the Río Ixtacapa. Good luck!.
Nearby Tourist Attractions: Xocomil water park.