Río Coyolate, Guatemala (area: Pacific Suchi; click here for the Guatemala table of rivers)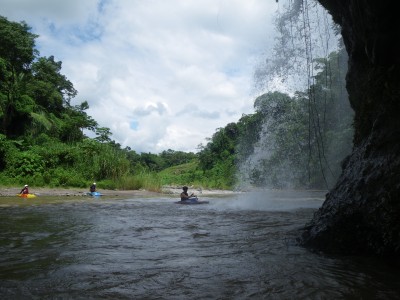 Class: III+; Ave. Gradient: 7 m/km; Portages: none; Length: 7-24 km; Time: 1:30-6:00
Season: May to December+; rafts? yes; Highlights: scenery; Crux move: finding the driver at the TO
Water Quality: poor; Water Temperature: warm
PI: Naranjo (elev: 245m); TO: Coyolate or Cruce de Don Genaro (or other finca access in between)
Description: (click here for general notes about my descriptions)
The Río Coyolate is a perennial favorite of intermediate kayakers and raft ers. It has nice jungle scenery, a remote feel, and enough rapids and play waves to keep things interesting. Plus, it is relatively close to Antigua and the capital.
A full description is in the Mayan Whitewater Guatemala guidebook.
Flash Flood Danger: low.
Descent History: First descent by Area Verde guys in 1996. (Area Verde was a company doing rafting/kayaking tours in Guatemala for a few years in the 90's, founded by Paul Heesaker from Colorado with subsequent partners Josh Anthony and Roberto Rodas.) The Coyolate sees a couple descents a year, and has been run at widely varying water levels.
Flow Notes: There is a NOAA/HADS-listed online gauge but it hasn't been functional for years. There are several other online gauges along the Pacific coast that hint in general about recent rain, but not one you could really correlate to. The more water the better on the Coyolate (though at 2500+ cfs the river should be considered a class IV), unfortunately the level drops rather quickly during dry spells. Rafters are often left wanting more water; their best bets are June to October. But there is always some water in the river, and desperate kayakers willling to abuse their boats can still put-on the first few months of the dry season, or in some years after early rains in April and May.

Nearby Tourist Attractions: Atitlán lake and Sipicate beach