Río Chixoy, Chamá and Peyán sections*, Guatemala (area: Chisec; click here for the Guatemala table of rivers)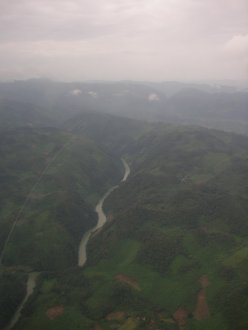 Class: IV; Ave. Gradient: 2 m/km; Portages: 1 or 2; Length: up to 96 km; Time: up to 22 hours/3 days (usually 81 km/2 days)
Season: year-round (dam release); rafts? yes; Highlights: beautiful remote multi-day; Crux move: portage at Sleepwalk
Water Quality: ok; Water Temperature: warm
PI: Quixal powerhouse (elev: 307m) or La Esperanza Copalá (elev 215m); TO: El Castaño, or Playa Grande
Description: (click here for general notes about my descriptions)
*This run is in a politically sensitive area.*
The lower Chixoy is a wonderful multi-day trip through the remote and lush Chamá mountains. However, it is pretty much off-limits to outsiders because the locals are up in arms about the proposed Xalalá hydroelectric project. Us boaters are none too happy about the situation, but are counting on the locals to prevail, because the dam would flood all the rapids and ruin half of this beautiful waterway, which has the potential to become a wellknown rafting destination. Permission can be obtained to run the lower Peyán section if you utilize my contacts, but there is currently no "in" on the upper Chamá section.
A full description is in the Mayan Whitewater Guatemala guidebook.
Descent History: The first descent, starting well above the powerhouse and continuing below Playa Grande, was by kayakers Ben Harding and Filip Sokol in 1977. There was an attempt to run the river in the 80's by the Guatemala Kayak and Spelunking Club but it was aborted halfway and the group was rescued by the army after hiking out amid local civil-war tensions.
In the 21st centry, the first kayak descent was by Maarten Bleijerveld, Simon Wulffraat, and myself in January 2007. The first raft descent was in May 2008 by Sydney Shaw, Manolo Rodas, Max Baldety, Victor Lam, Fabricio Alvarado, Ervin Aldana, Alejandro "Tico" Mendoza, Alice Lee, Axel Alburez (inflatable kayak), and myself. These have been the only 2 full-run descents since year 2000.
Flow Notes: There is an online gauge for the Chixoy downstream of these runs (current graph below). The Quixal powerplant puts out a reliable 2100-2600 cfs from before 9:00 am to after 7:00 pm daily (and 24 hours/day when the reservoir is high). But it's worth to phone ahead (7950-4546/7) to ask about any exceptions to the schedule, asking for engineers Federico Chavarría or Alvaro Rosales (anyway you will want to visit them at the Chinatzul facilities just east of San Cristobal Verapaz to request permission to enter the Quixal dam site). You can get idea of recent hydro activity on the weekly INDE report; during the rainy season this will also include dam spillage in the flows.
My impressions of the run are mostly from low/normal flows, but of course heavy rains (possible any time of year) can alter the scenario. September and October, the rainiest months, increase the threat of super high water in the lower Peyán canyon, as well as moderately high water in the upper stretches—even more (6000+ cfs) if the dam is spilling. Again you will want to check with the engineers about lake levels and the possibility of the spillways being opened.
Nearby Tourist Attractions: Lachuá National Park near the lower take-outs.