Río Chixoy, bridge run, Guatemala (area: Cobán; click here for the Guatemala table of rivers)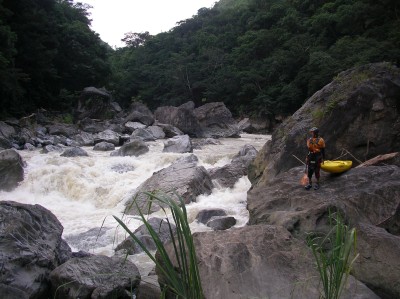 Class: V/VI; Ave. Gradient: 8 m/km; Portages: many; Length: 17 km; Time: 7.5 hours
Season: June to October; rafts? no; Highlights: peaceful beginning; Crux move: the rest of it
Water Quality: fair; Water Temperature: warm?
PI: Puente Chixoy (587m); TO: Río Chixoy Canyon Run
Description: (click here for general notes about my descriptions)
Below the Puente Chixoy, the Río Chixoy becomes a little schizophrenic. For about 10 km it is class II/II+, and in fact sometimes you can see tourists doing tubing here. The tubing run ends at some pretty, calcified waterfalls on RL. Below here, the river gets steeper and rapids become class IV, then V, then VI—in fact, a lot of VI—with big undercut boulders. At high water levels (only seen when the Chixoy dam is spilling) there is more portaging than river running, and I don't recommend this run. When the dam is not spilling, the water is too low to put on at the bridge except in the heart of the rainy season. But it might be worth trying to catch a just-right, not-too-low flow someday. Maybe.
Descent History: This was first run by kayakers Ben Harding and Filip Sokol in 1977. Maarten Bleijerveld and I made a high water descent in October 2007.
Flow Notes: see above. There is an online gauge way downstream that should give a hint as to low vs. high flows. But you will want to check with INDE to know if the dam is spilling or not (see the Dam Run page).
Nearby Tourist Attractions: Tubing trips are offered on this section. Contact Chicaman's Oficina Municipal de Turismo at 7763-3550 or 4015-8703.