Río Ceniza, Guatemala (area: Pacific Escuintla; click here for the Guatemala table of rivers)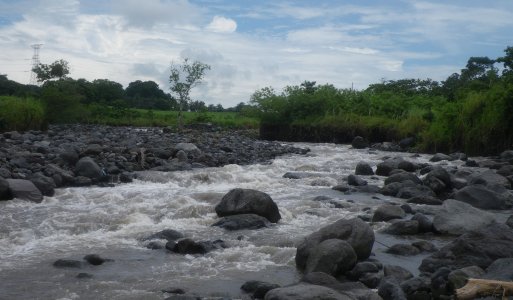 Class: IV; Ave. Gradient: 23 m/km; Portages: perhaps; Length: 15 km; Time: 2 hours
Season: June to October; rafts? no; Highlights: fresh lava; Crux move: keeping the sand out of your boat
Water Quality: decent; Water Temperature: medium
PI: Las Palmas (485 m); TO: Achiguate bridge (140 m)
Description: (click here for general notes about my descriptions)
The Río Ceniza ("Ash River"), like the Río Pantaleón, is another creek with fresh-off -the-volcano sediment and continuous rapids. The features are more varied than the Río Pantaleón, with mini gorges in the fi rst part, and a more braided and bushy riverbed below.
A full description is in the Mayan Whitewater Guatemala guidebook.
Descent History: I ran this solo in August 2010. I had 300 cfs at the PI.
Flow Notes: There is a online gauge below the confluence with the Río Achiguate (the "Cenizas" gauge, handy when working) but I have not correlated the fl ows. It is not easy to catch a good flow, though a boatable flow at the PI may look low at the To where the riverbed is wide and sandy.
Nearby Tourist Attractions: Sipicate beach, Antigua town.