Río Canguinic*, Guatemala (area: Chisec; click here for the Guatemala table of rivers)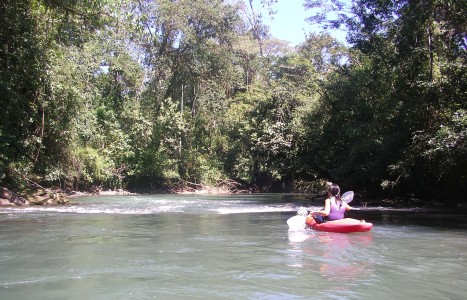 Class: II; Ave. Gradient: 1 m/km; Portages: one III, plus III's/IV's on Río Dolores; Length: 16 + 7 km; Time: 4 + 1.5 hours
Season: June to January; rafts? no; Highlights: long beginner section through remote karst hills; Crux move: the runout and nervous villagers near the TO
Water Quality: decent; Water Temperature: cool
PI: Canguinic (265m); TO: Santa Valeria (on Río Dolores, 220m)
Description: (click here for general notes about my descriptions)
The Río Canguinic is a relatively easy float through some remote karst hills and jungle villages. The problem for beginning paddlers is that it is a little long, and the run-out on the Río Dolores is class IV.
A full description is in the Mayan Whitewater Guatemala guidebook.
*This run is politically sensitive because of opposition to the Santa Rita hydro project at Finca Xalajá on the Lower Dolores, above the confluence. You may encounter suspicious villagers on your drove out from the TO, especially if you attempt to TO near the confluence.
Descent History: My wife, Alice Lee, and I explored this in January 2008, with 125 cfs at the PI.
Flow Notes: The Río Canguinic usually has water in the rainy season.
Nearby Tourist Attractions: not much in this area.