Río Cutzulchimá-Cabúz, Lower & Bottom, Guatemala (area: Pacific West; click here for the Guatemala table of rivers)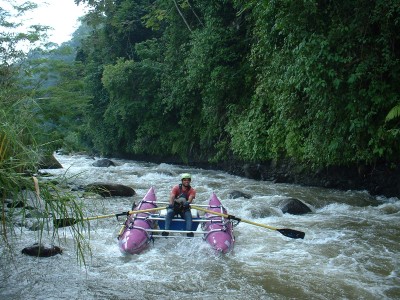 Class: IV; Ave. Gradient: 14 m/km; Portages: none; Length: up to 37 km; Time: up to 5 hours
Season: June to December; rafts? yes; Highlights: continuous big water; Crux move: avoiding the holes
Water Quality: decent; Water Temperature: medium
PI: La Vega on the Río Cutzulchimá (468m), or lower; TO: Río Suchiate (33 m), or higher
Description: (click here for general notes about my descriptions)
The Río Cabúz contains some of the most continuous and action-packed rapids in Guatemala. Its drainage as well as that of its main tributary, the Río Cutzulchimá, starts on the slopes of Tajumulco volcano, Central America's highest. Add to this the region's high rainfall and you have one of the country's premiere whitewater destinations. The upper sections offer quality creeking to kayakers, while the lower sections open it up to larger boats.
A full description is in the Mayan Whitewater Guatemala guidebook.
Flow Notes: The Lower Cabúz has water all rainy season long. When the water is low, the best section is Cabúz II to the Catarina bridge—rafters will often find enough water there June to October, and kayakers can keep it going for a couple months more. There is an online gauge at Cabúz II (though not working in 2015). The general opinion is that the more water (and the browner), the better, flooding aside.
Nearby Tourist Attractions: Tajamulco volcano, Central America's tallest peak, is just uphill.