Río Blanco, Guatemala (area: Río Negro; click here for the Guatemala table of rivers)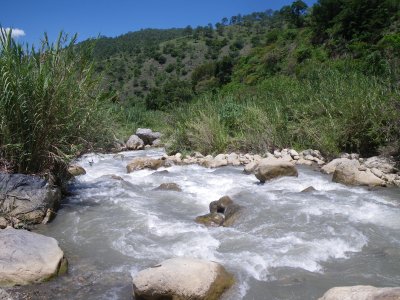 Class: IV+; Ave. Gradient: 17 m/km; Portages: probably; Length: up to 24 km; Time: 5 hours
Season: June to November; rafts? no; Highlights: spring-fed river ; Crux move: tricky scouting
Water Quality: decent; Water Temperature: not noted
PI: Blanco Chiquito (1610m) or La Vega (1437 m); TO: Río Blanco (1268m) or Río Negro con (1222 m)
Description: (click here for general notes about my descriptions)
The Río Blanco is well-named, being a clear spring-fed river that contrasts to the brown color of the Río Negro. It is a beautiful and fun run, though also scary, especially in the upper parts where the river runs through narrow, caña grass-lined channels where scouting is often by-the-seat-of-your-board-shorts. Besides the caña, there is the threat of wood and makeshift irrigation dams, plus a concrete dam in the lower half that you may need to portage. It is also a little bit trashy, but the water seems clean.
A full description is in the Mayan Whitewater Guatemala guidebook.
Descent History: I first ran the Río Blanco solo in November 2003.
Flow Notes: The Río Blanco always has some water due to its powerful spring, but unless it has been raining recently the flows are marginal for kayaking. September through early November are pretty sure bets; before and after, you need some luck.
Nearby Tourist Attractions: Aguacatán textile market.