Río Tzaconejá, Chiapas, Mexico (area: Southeast; click here for the Chiapas table of rivers)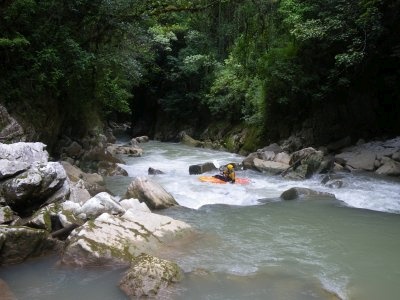 Class: IV Upper (V+ Lower); Ave. Gradient: 12 m/km (20 Lower); Portages: 1+ (10+ Lower); Length: 10 km (up to 24 km Lower); Time: 3 hours (up to 16 hours lower)
Season: mid-June to December (mid-June to Februrary lower); rafts? no (except Bottom bit); Highlights: creeky upper canyon; Crux Move: remembering your safety gear
Water Quality: good; Water Temperature: cold
PI/TO: Naranjal bridge (1160m) to highway bridge (lower: Bambú, 690m, to San Juan or Río Jataté)
Description: (click here for general notes about my descriptions)
The Tzaconejá offers a long stretch of whitewater by draining a good part of the eastern side of the beautiful Chiapas highlands. It's partner in this crime is the Río Jataté, and by the time the two meet at La Sultana they are both good-sized emerald-green rivers, but the Tzaconejá edges it out in both volume and gradient. In fact, as far as kayaking is concerned the Tzaconejá gets a little carried away, with much of the middle section being unrunnable by sane kayakers. It has its moments, though, wonderful ones, especially in the upper section and then the closer you get to the Jataté.
A full description is in the Mayan Whitewater: Chiapas & Belize guidebook.
Flow Notes: The only online gauge is way downstream on the Río Lacantún, shown below. The lower Tzaconejá contributes perhaps 5% of that total, the upper Tzaconejá maybe has 1%. You do need the luck of recent rains to catch the water on the upper section. The only paved access for a quick look at the flow is the upper TO bridge; the lower will have several more times the flow. My impressions of the upper are with 300 cfs at the TO in September. My impressions of the lower are with 2000 cfs in November. I would say that rare flows over 600 cfs in the upper, or over 4000 cfs in the lower, would invite more trouble than most kayakers could manage. Here I show historical data from INEGI, both at the road bridge, and at an unknown point further down.
click here for the height graph
Accommodations: Altamirano has several budget hotels. Ocosingo is the second-closest option.
Nearby Tourist Attractions: not much in this area. The mix of Mayan cultures (Tojolab'al near the upper section, Tzeltal on the road to the bottom section) is interesting.