Río Tepuzapa, Chiapas, Mexico (area: Pacific coast; click here for the Chiapas table of rivers)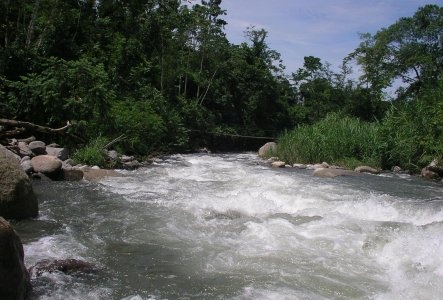 Class: IV-; Ave. Gradient: 28 m/km; Portages: at least 2; Length: 8 km; Time: 2:00
Season: July to October; rafts? no; Highlights: pretty vegetation; Crux move: avoiding the tall one
Water Quality: decent; Water Temperature: not noted
PI: El Triunfo (elev: 260 m); TO: El Chipilín bridge
Description: (click here for general notes about my descriptions)
The Río Tepuzapa is a pretty little creek worth checking out if you're in the area. Expect plenty of wood in this creek however.
A full description is in the Mayan Whitewater: Chiapas & Belize guidebook.
Flow Notes: There is no online gauge. There are other nearby gauges on the Río Huixtla and Río Huehuetán, but they are not always working. The stream crosses the coastal highway at km 254.8 (west-bound markings). Below I show the Finca Argovia (on Upper Río Huehuetán) rain gauge, which can give some clues about recent rainfall patterns.
Accommodations: There are basic hotels in Huixtla, otherwise Tapachula is also close.
Nearby Tourist Attractions: not much in this area.