Río Santo Domingo, lower canyons, Chiapas, Mexico (area: Southeast; click here for the Chiapas table of rivers)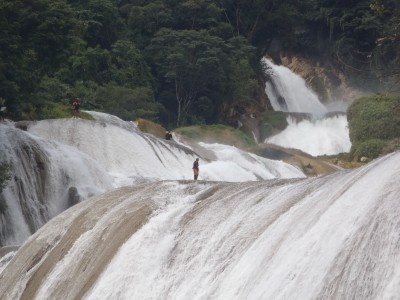 Class: every; Ave. Gradient: 0 to No Way!; Portages: oh yeah; Length: up to 60km; Time: as much as you got
Season: year-round; rafts? small bits ; Highlights: waterfalls; Crux move: portaging around them
Water Quality: ok; Water Temperature: warm
PI: wherever you dare (top elev: 700m, bottom elev: 185m); TO: hopefully with your paddle in one piece
Description: (click here for general notes about my descriptions)
The Río Santo Domingo enjoys legendary status as the keeper of remote impassable canyons and unbelievably turquoise water. Many kayakers have seen the jaw-dropping waterfalls on videos, but few have actually ventured close enough to see what it's all about. Those that do are rewarded with the ultimate in canyon scenery, and may even enjoy the small bits that can be paddled. Visitors also encounter a jungle alive with exotic plants and birds like toucans, black-bellied whistling ducks, and many others.
A full description is in the Mayan Whitewater: Chiapas & Belize guidebook.
Flow Notes: There is a "Lacantún" streamflow gauge way downstream, linked to below; I have not verified its accuracy. The volume in the lower canyons is a fractional part (10-15%?). In 2011, 15,000 cfs gave about 800 cfs in 5-A and almost 2000 cfs in 5-B. Below I also have historical data from INEGI, the first near San Pedro Yutniotic, the second above the confluence with the Jataté. The flatter sections can be run, and the canyon sections admired, up to quite high flows. Be extra careful in canyon #7 at higher flows when straightforward portage routes start to disappear.
Another hint to flows can be garnered via the rain gauges, also shown below. The Comitán gauge is close to the Santo Domingo headwaters, while the Ocosingo gauge is close to the Jataté headwaters, the other main source of water for the Lacantún gauge.
Accommodations: There are basic hotels at several of the small towns along the highway (e.g., at Pacayal/Nuevo San Juan Chamula), and near the river at Parque Ecológico Sacch'en below Canyon #5 (camping only), Causas Verdes resort in Las Nubes situated right at the head of Canyon #8, and at La Democracia across the river from Amatitlán.
Nearby Tourist Attractions: the exquisite Lagunas de Montebello that are on the way in from Comitán.