Río Santo Domingo (Grijalva), canyon, Chiapas, Mexico (area: South Central; click here for the Chiapas table of rivers)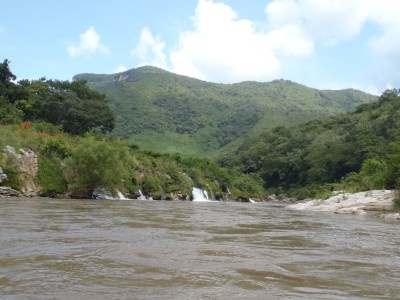 Class: II; Ave. Gradient: 2 m/km; Portages: one III-; Length: 27 km; Time: 4-5 hours
Season: July to October; rafts? yes; Highlights: scenery; Crux move: toughing out some flat water
Water Quality: questionable; Water Temperature: warm
PI: Ignacio Zaragoza (elev: 490 m); TO: Julian Grajales
Description: (click here for general notes about my descriptions)
The Río Santo Domingo allows you to experience part of the Tuxtla canyonlands without the nuisance of many rapids to spoil your float. There are impressive cliffs and pretty springs along the way, though cattle farming is apparent most of the way also. It's a nice beginner run for those with the stamina to paddle all the flat water.
A full description is in the Mayan Whitewater: Chiapas & Belize guidebook.
Flash Flood Danger: normal, get an early start.
Descent History: Only known descent was 01.10.12 by Greg Schwendinger.
Flow Notes: The Río Santo Domingo has a convenient online gauge, which may be the one I saw in the canyon itself. The latest charts are also shown below. In 2012, a reading of 4100 cfs meant an actual flow of about 1000 cfs. Also here I include some historical data.
| | |
| --- | --- |
| click here for the height graph | |
Accommodations: The logical place to sleep would be in Tuxtla Gutierrez, or in Villaflores.
Nearby Tourist Attractions: Cañón del Sumidero near Chiapa de Corzo.