Río Negro, lower, Chiapas, Mexico (area: Far West; click here for the Chiapas table of rivers)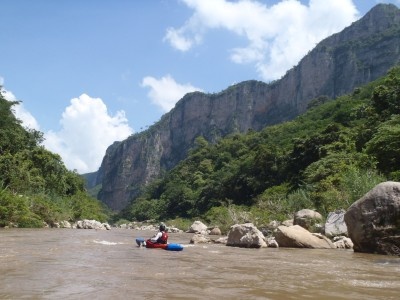 Class: IV; Ave. Gradient: 5 m/km; Portages: maybe one; Length: 37 km; Time: 7:00 + motorboat out
Season: July to November; Rafts? no; Highlights: creeking below the cliffs; Crux move: shuttle
Water Quality: decent; Water Temperature: warm
PI: Rio Negro (elev: 300 m); TO: Malpaso reservoir
Description: (click here for general notes about my descriptions)
This run follows the Río Negro into the depths of the lower La Venta canyons, passing a good bit of class III and IV on the way. The cliff scenery here is second only to the Río La Venta itself. The La Venta has the caves, but the Negro has the whitewater, and is shorter.
A full description is in the Mayan Whitewater: Chiapas & Belize guidebook.
Flow Notes: There is a convenient online gauge at Santa Maria, linked to below. The readings seem pretty accurate. Below I also show history from the past several years. My impressions are from a run with about 500 cfs at the PI and 950 cfs on the gauge. I wouldn't want much less than 800 cfs showing on the gauge since there are a lot of shallow areas in the first half of the run.
| | |
| --- | --- |
| click here for the height graph | |
Accommodations: There are hotels in Cintalapa.
Nearby Tourist Attractions: Río La Venta cave, called the "Arco del Tiempo".