Río La Venta, Chiapas, Mexico (area: Far West; click here for the Chiapas table of rivers)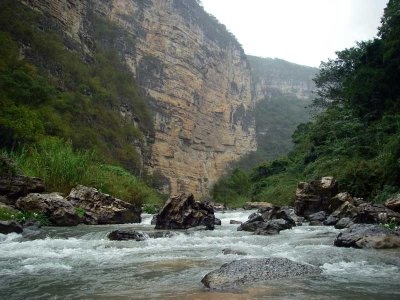 (photo courtesy of Rocky Contos, for more photos click here)
Class: IV; Ave. Gradient: 4 m/km; Portages: several; Length: 70-80 km; Time: 3-6 days
Season: July to October; Rafts? yes, with higher water; Highlights: caves and limestone gorges; Crux move: rocky portages
Water Quality: decent; Water Temperature: medium
PI: Puente Las Flores (elev: 490 m) or Cascada El Aguacero; TO: Presa Malpaso at Encajonado or Raudales
Description:
Rainy season note: In 2012 Ernesto of Explora warns that the final "Derrumbe" landslide may be difficult to pass for rafters, and maybe kayakers, if the river rises significantly, and also mentions that the big rapid below the landslide is a solid IV+ (for rafters).
First run by Italian spelunkers in 1990, Río La Venta is one of those special rivers in Chiapas not to be missed. The main attractions are stunningly deep vertical-walled gorges, beautiful waterfalls into the river and numerous caves to explore. These interesting features derive from the limestone geology of the area with its numerous subterranean passages, some of which hold and release springwater. The caves on the trip are particularly noteworthy, such as Cueva La Venta, a 13 km long cave complex with entrance by the river, and Cueva del Río, a half-kilometer long cavern that you actually paddle through. The whitewater is generally of intermediate difficulty, so the run should not be frightening for experienced paddlers. Also, due to the protected wilderness nature of the area, you are likely to see indigenous wildlife while being virtually assured of not encountering any banditos.
A full description is in the Mayan Whitewater: Chiapas & Belize guidebook.
Flow Notes: There is a convenient online gauge at the PI. The actual flow seems to be about half the reported flow (for low flows). Ernest of Explora says that 750-1050 cfs on the gauge is the most comfortable for commercial rafting trips.
| | |
| --- | --- |
| click here for the height graph | |
Accommodations: Near the PI, there are hotels in the major towns along the highway, e.g., Ocozocoautla and Cintalapa. The TO town of Raudales also has hotels.
Nearby Tourist Attractions: The river borders the Selva El Ocote Biosphere Reserve which you can visit, either from El Encajonado or Ocozocoautla.