Río Cahoa, Chiapas, Mexico (area: Pacific coast; click here for the Chiapas table of rivers)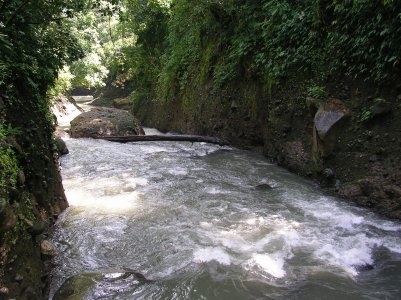 Class: IV+; Ave. Gradient: 15 m/km; Portages: a couple; Length: up to 32 km; Time: up to 7:00
Season: June to October; rafts? no; Highlights: lots of small canyons; Crux move: on-the-fly scouting
Water Quality: decent; Water Temperature: not noted
PI: Carrillo Puerto bridge (elev: 500 m), or lower; TO: 1 of 2 bridges east of Tapachula
Description: (click here for general notes about my descriptions)
The Río Cahoa is a fun and very pretty creek but also a bit spooky, with lots of blind curves and tight passages through its volcanic mini-canyons. Most of the rapids are class III, but there is some IV and expert creek boat-scouting skills are required. Small groups are recommended due to the limited eddies at various points. Add in the threat of wood getting stuck in the wrong place and you have a creek with a higher risk factor than most others with similar gradient.
A full description is in the Mayan Whitewater: Chiapas & Belize guidebook.
Flow Notes: There is no online gauge to help you here, though other coastal gauges can give you an idea of trends, as can the Tapachula rain gauge, shown below. The river is down more than it's up. You can pre-scout at the lower bridges (which include flow from the Río Cahoacán). On my run, 800 cfs at the TO gave 200 cfs at the PI, pretty close to a minium flow. On the other hand I wouldn't want a whole lot of water either—I'd think twice before putting on with more than 300 cfs at the PI.
Accommodations: Tapachula makes a convenient base for this run.
Nearby Tourist Attractions: Proto-Mayan ruins at Izapa; Tacaná volcano; Puerto Madero beach.