Río Almandro, Upper (Travertine Canyon), Chiapas, Mexico (area: north central; click here for the Chiapas table of rivers)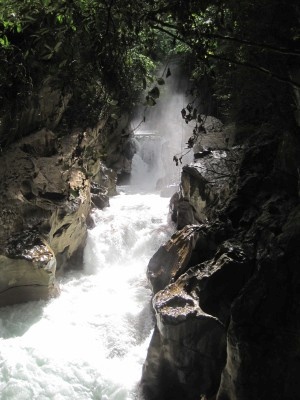 Class: V; Ave. Gradient: 25 m/km; Portages: 4; Length: 7 km; Time: 8 hours
Season: June to January; rafts? no; Highlights: high quality steep drops/falls; Crux move: Final Four (Vs)
Water Quality: good; Water Temperature: cool
PI: Puente Tzajalchen (780 m); TO: Tzajalhucum footbridge
Description: (click here for general notes about my descriptions)
This is one of the coolest class V runs in the state, with not only travertine falls but also sequence rapids that will keep adrenaline junkie kayakers pleased for the day. From the bridge access PI, the river fl ows rather tranquilly for 1.0 km to where a tributary enters on the right and boosts the flow a bit. Not far downstream the walls close in and a vegetated canyon/gorge starts which lasts for 6 km. Here you'll fi nd an amazing array of rapids, mostly class III and IV but several Vs and some V/VI. Expect to take many hours getting through this short section, since you'll be scouting a ton and portaging at least a few. I portaged a total of four rapids on my initial run, though it could be done possibly with just 1–2 portages. Boris portaged probably 10 in his IK.
A full description is in the Mayan Whitewater: Chiapas & Belize guidebook.
Descent History: First descent by Rocky and Boris Trgovcich, December, 2011.
Flow Notes: The only online gauges are well downstream on the Río Almandro. The limestone geology of the drainage probably signifies consistent runnable flows June–January most years. Beware of too high water in here, which can make some portages very challenging.
Nearby Tourist Attractions: San Cristobal de Las Casas.